World Day Against Trafficking in Persons 2021: ACFCS offers key tips, tactics, resources to counter criminals, empower fincrime compliance teams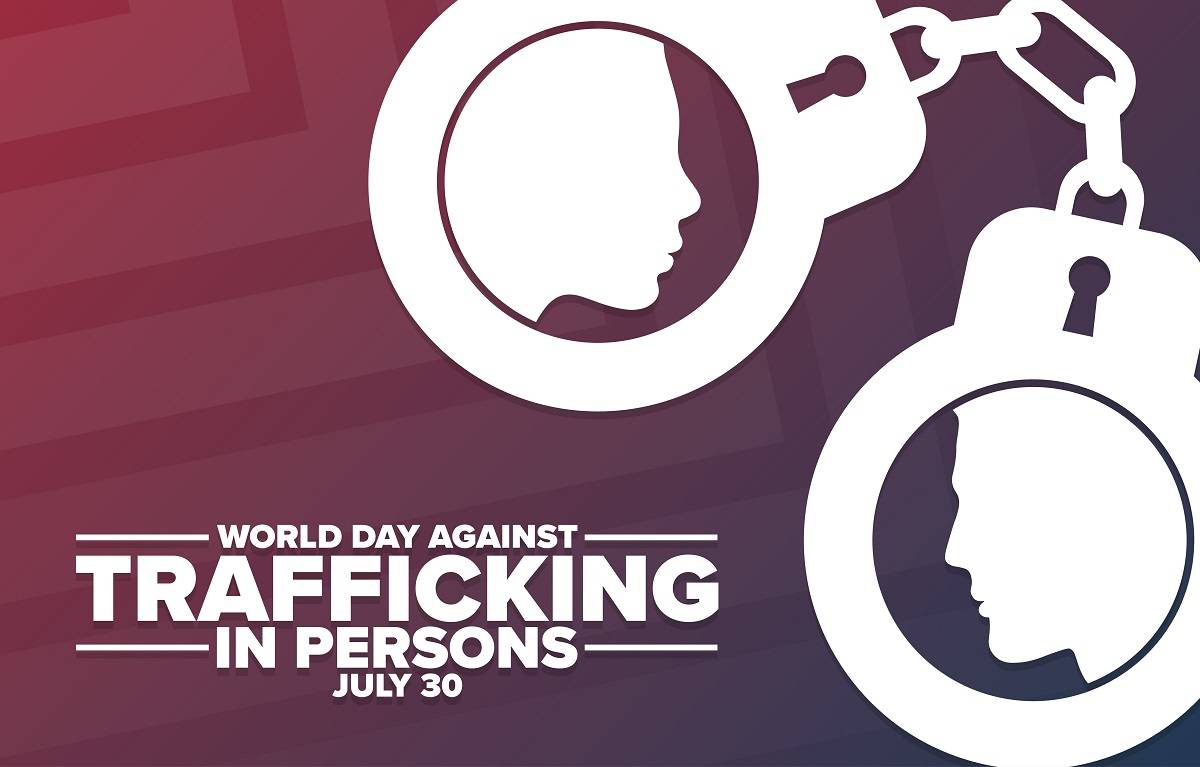 World Day against Trafficking in Persons is held on July 30th each year, an annual event to bring awareness to a crime generating massive revenues for organized criminal groups and growing in importance for bank fincrime compliance teams to stop.

Despite increasing understanding of geographic trafficking routes, resources and sharing on financial red flags from both the public and private sectors, the trafficking of persons – for illicit aims including sex trafficking, forced labor and more – remains a multi-billion dollar criminal enterprise.

The crime affects tens of millions of victims and continues to challenge financial institutions in the areas of detection and prevention. That is why it is more important than ever today to review what global investigative, financial institution and watchdog groups have done in terms of progress and see where we can improve as a community to stamp out monetized human misery.
By Brian Monroe
bmonroe@acfcs.org
July 30, 2021
World Day against Trafficking in Persons is held on July 30th each year, an annual event to bring awareness to a crime generating huge revenues for organized criminal groups and growing in importance for bank fincrime compliance teams to identify, interdict and report to authorities.
This year's theme for the World Day Against Trafficking in Persons "highlights the importance of listening to and learning from survivors of human trafficking," according to the United Nations Office on Drugs and Crime (UNODC).
"Survivors are key actors in the fight against human trafficking," according to the group, divulging some of the techniques large trafficking organizations use to get and keep bank accounts and launder ill-gotten gains.
"They play a crucial role in establishing effective measures to prevent this crime, identifying and rescuing victims and supporting them on their road to rehabilitation," and in some cases preventing other vulnerable individuals – runaways, drug addicts, homeless and those in the foster system – from falling prey to predatory traffickers.
At its heart, human trafficking is described as illegally transporting people from one country or area to another, in many cases for the purposes of forced labor or sexual exploitation, according to analyses and media reports.
According to the U.N.-backed International Labor Organization (ILO), globally it is estimated that tens of millions of people annually are victimized by traffickers.
Individuals can be roped in by traffickers both willingly in terms of trying to make a better life for themselves, through human smuggling that turns to trafficking and in other instances, taken advantage of by illicit organized criminal gangs.
The profits of this crime are also enormous, a sobering figure built on abuse, suffering and stolen innocence.
In a 2014 ILO report, human trafficking earns a profit of nearly $150 billion annually, with more than half of the profits coming from sexual exploitation.
That makes the sex and labor trafficking industry second only to drug trafficking as the world's largest criminal money making machine, according to ILO and the nonprofit Polaris Project, key figures not lost on global watchdog groups, domestic and international investigative agencies and international banking groups.
How to find trafficking transaction trails? Look for spike in CC cancellations, late night payments
Over the last decade, through a bevy of globe-spanning public-private partnerships, law enforcement agencies and banks have shared broad and specific red flags to help uncover businesses taking advantage of slave or sex labor.
One key tactic to uncover potential ties to trafficking groups in your institution is looking for accounts without standard sources of income and in terms of credit card transactions, frequent cancellations, according to several fincrime compliance professionals speaking at a conference for the Association of Certified Financial Crime Specialists.
Some examples include:
Cash Deposits
Excessive deposits, particularly in round amounts, like $50, $150 and $200.
Abnormally timed deposits, such as between 10 p.m. and 6 a.m.
Large denominations of deposits. If normal cash-intensive business, you will have a mix of denominations. Coins. $5 and $10. If human trafficking, you will largely be taking in $50 bills, $20 and $100 dollar bills.
Illicit groups think banks don't look for that, but denominations in deposits are recorded at the branch level.
Deposits in multiple cities, particularly if they are close to each other, over a period of time. Traffickers will take victims from city to city and rotate throughout the country in urban centers in the country.
Look for the impossible trip, such as deposits and withdrawals at ATMs in two cities that are hours apart by car. If you see that as an AML analyst, it means multiple people are using the same account as a funnel account.
Peer to peer payments (EMT, Venmo, etc.)
Payments in round consistent amounts. An account that is taking in a lot of these have some telltale signs as well. The fact that the payments are in some sort of increment. $150, $300 and $50, means someone is buying something in increments of hours.
Multiple originators with some repetition. Many different parties paying into the same account over time and repeat customers. Look for customer drift in multiple cities. Look for a single email address associated with multiple bank accounts or the opposite, a single bank account associated with multiple email addresses, and those tied to online advertising or escort sites.
Funnel accounts and Peer to peer transfers. They know that is a vulnerable area, used accounts to collect the P2P transfer, then immediately hit an ATM and withdraw the money.
They know the behavior to stick out, so when a P2P transfer hits a bank account, they pull it out immediately, sometimes in as little as 30 minutes. It is a smurfed account. If that is caught and shut down, they won't lose a lot of value. A key red flag is 5 – 10 email money transfers and then 5-10 withdraws done on that periodically.
Payroll
Multiple payroll deposits into one account, which could be tied to slave labor. This would look like multiple government benefit checks to the same account. Clearly intended for more than two or three people, meaning the person is in control of the labor and taking the money and paying it out – but much less to those actually doing the work.
Multiple deposits from processors for online adult content, such as Fenix, Onlyfans and the like.
From the pain of victims, the strength of survivors, the will to fight, to overcome
The UNODC notes that law enforcement agencies have been trying to change their view of trafficking networks.
Rather than seeing the crime as one monolithic, money-making machine, there are actually two distinct entities – the criminals pulling the strings and the individuals they have co-opted, people who should be viewed as victims, not co-conspirators.
"Many victims of human trafficking have experienced ignorance or misunderstanding in their attempts to get help," according to the UNODC. "They have had traumatic post-rescue experiences during identification interviews and legal proceedings."
Even worse, some have "faced revictimization and punishment for crimes they were forced to commit by their traffickers. Others have been subjected to stigmatization or received inadequate support."
These victims should be viewed as critical resources and investigator allies – not pariahs.
"Learning from victims' experiences and turning their suggestions into concrete actions will lead to a more victim-centered and effective approach in combating human trafficking," according to the UNODC.
In historic U.S. fincrime, compliance update, human trafficking now a 'national AML priority'
Effective approaches to fighting human trafficking and its financial support networks is also on the mind of the U.S. Treasury's Financial Crimes Enforcement Network (FinCEN), which made the crime one of its eight national anti-money laundering and countering the financing of terrorism (AML/CFT) priorities.
The priorities include a collection of historic foils like organized criminal groups and other rising risks, like record ransomware attacks and crypto-fueled paydays.
The widely-watched and highly anticipated AML priorities are the first concrete update to implement the U.S. Anti-Money Laundering Act (AML Act) – the most significant upgrade to the country's fincrime framework since the 2001 U.S.A. Patriot Act.
The AMLA is an expansive package of updates to break open beneficial ownership bastions, bolster public-private information sharing, usher in a new era of innovation and focus on effectiveness – with the threat of higher penalties for violations, and serial scofflaws.
To read ACFCS coverage of the AML Act, which Congress enacted into law in January after overriding a presidential veto, click here.
Human trafficking and human smuggling networks "use a variety of mechanisms to move illicit proceeds, ranging from cash smuggling by individual victims to sophisticated cash smuggling operations through professional money laundering networks and criminal organizations," according to FinCEN, in detailing this priority.
The tainted profits of human trafficking can include "income associated with logistics, such as housing and transportation of victims, as well as earnings from the exploitation of victims."
These groups also look to obfuscate the formal financial trail by hiding behind shell companies with opaque ownership structures, receiving payments in a panoply of ways, such as funnel accounts, trade-based money laundering schemes and transactions into and out of virtual currency exchanges, in some cases using prepaid cards bought under identity thresholds.
To read the full list of AML priorities and related interagency statements, click here.
To read ACFCS coverage of the FinCEN AML priorities and a related statement by the Wolfsberg Group, an influential alliance of more than a dozen of the world's largest banks, including Citi, JPMorgan, Barclays, Credit Suisse and others, click here.
The only way to win the fight against large, international trafficking gangs: working together
Over the past decade, even before guidance on human trafficking was released by the Paris-based Financial Action Task Force (FATF) in 2011 and more recently in 2018, and by the U.S. Treasury's Financial Crimes Enforcement Network (FinCEN) in 2014, many large domestic and international banks have been proactively creating trafficking typologies and tuning systems to better uncover operations that could be trafficking in persons.
But even with such guidance – which in the case of FinCEN calls for knowledge of these red flags down to the teller level – uncovering the financial and transactional tells of a business that could be tied to a human trafficking operation can be difficult.
These types of investigations must inculcate analyzing classic aberrant activity, such as large transactions that don't make sense paired with regions of the world associated with trafficking routes, with a more nuanced eye – such as a massage parlor or nail salon that does most of its business in credit cards between midnight and 2 a.m.
In recent years, local and federal law enforcement agencies have notched some big wins against trafficking groups, including stings in recent months capturing hundreds of the trafficking syndicate's leaders and rescuing dozens of victims – in some cases in just one operation.
That was the case in April, when an INTERPOL-led crackdown on human trafficking and migrant smuggling helped authorities in Africa and Europe rescue nearly 500 victims of human trafficking – including children – and identified some 760 irregular migrants.
To read the full story, click here.
Operation Weka, which means "Stop" in Swahili, was carried out between late March and early April, when investigative agencies from some two dozen countries representing "source, transit and destination locations" worked together to dismantle criminal networks behind key routes.
The joint operation led to a total of 195 arrests – 88 for human trafficking and 63 on people smuggling charges and a smattering of arrests for charges including document fraud, theft, illicit drug-related crimes and environmental offenses.
Human Trafficking: ACFCS Resource page
One of the fastest growing crimes today is Human Trafficking. It is a lucrative business, with an estimated $150 billion dollars in profits generated each year. The financial industry uniquely positioned to combat this heinous crime.
Below are some helpful indicators and resources to assist banks in their efforts to detect behavior that could indicate a human-trafficking situation. To visit the ACFCS resource page, click here.
How Can Banks Identify Human Trafficking Red Flags?
· Financial activity such as multiple employees being paid into a single account
· Wage receipt followed by rapid withdrawal or onward transfer into single accounts
· Unusual behavior inside of the bank, such as individuals avoiding cashiers or regularly depositing cash using branch automated machines
· No living expense transactions
Sharing information and awareness is key to the fight against human trafficking. The new HT Resource Page will serve as a knowledge center for financial crime professionals. With your help, it will be updated and expanded over time. Visit the page and learn how you can contribute today.
To share a resource, click here.
Resources
Department of Homeland Security
Indicators of Human Trafficking
FATF
Financial Flows from Human Trafficking
Money Laundering Risks Arising from Trafficking in Human Beings and Smuggling of Migrants
US Department of Justice
ACFCS Articles
Special ATII Report: Crypto transactions and human trafficking – A non-traditional investigation perspective for traditional financial institutions
Special ACFCS Contributor Report: Banks Have a Moral Obligation to Fight Human Trafficking
Regional Report: Canada has done 'amazing things' to fight crime through public-private partnerships, but still hampered by stringent privacy rules, lack of AML safe harbors
Canada looking to strengthen domestic, foreign accords to better tackle human trafficking: report
FATF details nuanced financial trails of human trafficking, giving banks more chances to intercede
FinCEN human trafficking guidance could present challenges for institutions
Facing new threats, institutions expand risk assessments to take in red flags of human trafficking
After months of court battles, Westpac settles with Austrac, agrees to pay $1.3 billion for millions of AML failings, ties to child exploitation network
Other Resources
The Online National Human Trafficking Referral Directory
The National Sexual Violence Resource Center
DOJ, FBI Money Mule Awareness Booklet
Federal investigators reveal the profile of money mules to better help compliance professionals and frontline staff, including parsing out those acting in unwitting, witting and complicit capacities.
Red flags include opening multiple accounts in their own names, likely warned previously about being part of fraudulent activity and may receive funds from unknown or third-party entities. To read the full report, click here.
*This story has been updated.
See What Certified Financial Crime Specialists Are Saying
"The CFCS tests the skills necessary to fight financial crime. It's comprehensive. Passing it should be considered a mark of high achievement, distinguishing qualified experts in this growing specialty area."
KENNETH E. BARDEN
(JD, Washington)
"It's a vigorous exam. Anyone passing it should have a great sense of achievement."
DANIEL DWAIN
(CFCS, Official Superior
de Cumplimiento Cidel
Bank & Trust Inc. Nueva York)
"The exam tests one's ability to apply concepts in practical scenarios. Passing it can be a great asset for professionals in the converging disciplines of financial crime."
MORRIS GUY
(CFCS, Royal Band of
Canada, Montreal)
"The Exam is far-reaching. I love that the questions are scenario based. I recommend it to anyone in the financial crime detection and prevention profession."
BECKI LAPORTE
(CFCS, CAMS Lead Compliance
Trainer, FINRA, Member Regulation
Training, Washington, DC)
"This certification comes at a very ripe time. Professionals can no longer get away with having siloed knowledge. Compliance is all-encompassing and enterprise-driven."
KATYA HIROSE
CFCS, CAMS, CFE, CSAR
Director, Global Risk
& Investigation Practice
FTI Consulting, Los Angeles